Buying a townhouse in Calgary, the bustling metropolis nestled in the province of Alberta, Canada, can be an exciting and rewarding endeavor. With its vibrant urban lifestyle, diverse neighborhoods, and range of housing options, Calgary offers a dynamic real estate market that appeals to a wide range of homebuyers. If you're considering purchasing a townhouse in this thriving city, this comprehensive guide will walk you through the essential steps and considerations to make an informed and successful purchase.
Step 1: Define Your Budget
Before diving into the townhouse hunting process, it's crucial to establish a clear budget. Determine the maximum amount you can afford to spend on your townhouse, taking into account not just the purchase price but also additional costs such as property taxes, maintenance fees, and closing expenses. Securing a mortgage pre-approval from a lender will give you a realistic idea of how much you can borrow and help narrow down your options to properties within your budget.
Step 2: Identify Your Priorities
Next, identify your priorities and preferences for your future townhouse. Consider factors such as the desired neighborhood, proximity to amenities, school districts, and commuting distance to work or other frequented places. Decide on the number of bedrooms and bathrooms, preferred layout, and any specific features or amenities you'd like your townhouse to have. Having a clear idea of your priorities will help you focus your search and find the perfect match.
Step 3: Research Neighborhoods
Calgary boasts a diverse range of neighborhoods, each offering a unique atmosphere and lifestyle. Research different neighborhoods to find the one that aligns best with your preferences. Explore factors such as safety, community amenities, nearby parks, and access to public transportation. Online resources like Wikipedia can provide valuable insights into Calgary's various neighborhoods.
Step 4: Find a Trusted Real Estate Agent
Engaging a qualified and experienced real estate agent is an essential step in your townhouse buying journey. A reputable agent can provide invaluable guidance, access to the latest listings, and expert negotiation skills. Look for an agent who specializes in townhouses in Calgary and has a proven track record of successful transactions. Ask for referrals from friends or family or research online reviews to find the right agent for you.
Step 5: Start Your Search
With your budget, priorities, and preferred neighborhoods in mind, begin your townhouse search with the help of your real estate agent. Explore online listings, attend open houses, and visit townhouse developments in person to get a sense of the available options. Take note of the features and amenities that appeal to you and keep track of the properties that catch your eye.
Step 6: Consider Townhouse Developments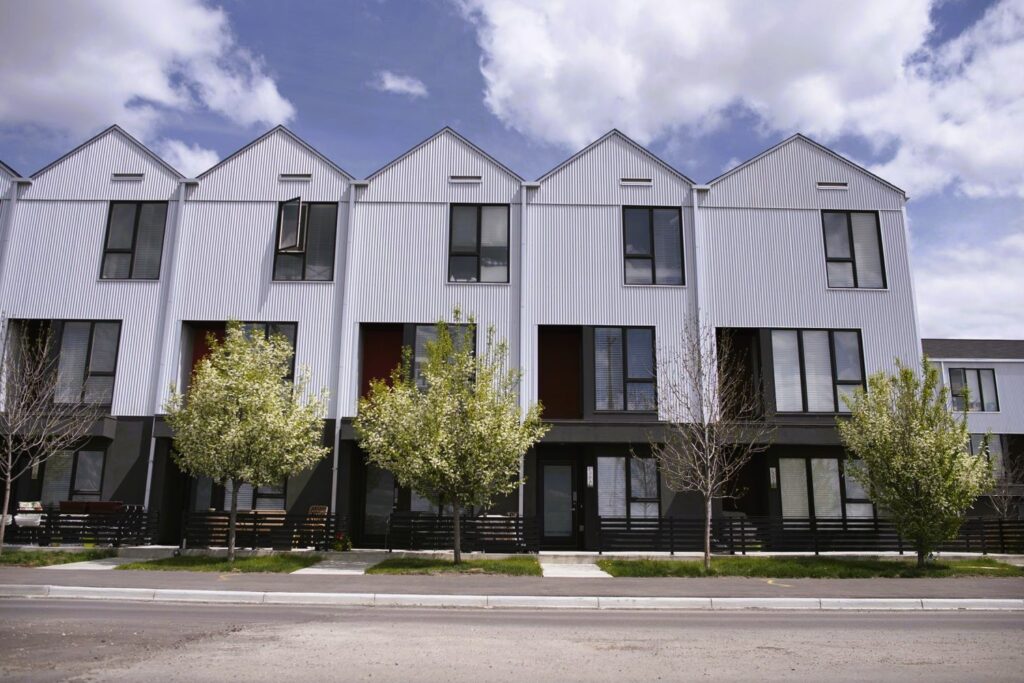 In addition to individually listed townhouses, consider exploring townhouse developments in Calgary. Developers often offer new and modern townhouses with a range of amenities and customization options. Investigate the reputation of the developer and the quality of their previous projects before committing to a purchase. The Rise of Townhouses in Calgary: A Growing Trend.
Step 7: Review Condo Corporation Documents
If you're considering a townhouse within a condominium complex, request and review the condo corporation documents. These documents will provide important information about the condo's financial health, reserve fund, rules and regulations, and any pending or past special assessments. Understanding the condo corporation's status will give you a better idea of the property's overall management and potential future expenses.
Step 8: Conduct a Home Inspection
Before finalizing your purchase, schedule a professional home inspection. A thorough inspection will identify any potential issues or needed repairs in the townhouse. Review the inspection report with your real estate agent to determine if any negotiations with the seller are necessary based on the findings.
Step 9: Review the Purchase Contract
Work closely with your real estate agent and a real estate lawyer to review the purchase contract thoroughly. Ensure that all terms and conditions align with your expectations and that you fully understand your rights and obligations as a buyer. Address any concerns or clarifications with the seller before signing the contract.
Step 10: Secure Financing and Close the Deal
Once the purchase contract is signed, work with your lender to secure your financing. Complete any necessary paperwork and meet the lender's requirements to obtain your mortgage approval. As the closing date approaches, conduct a final walkthrough of the townhouse to ensure it is in the agreed-upon condition.
Conclusion:
Buying a townhouse in Calgary can be a fulfilling and life-changing experience, provided you approach it with careful consideration and preparation. By defining your budget, identifying your priorities, researching neighborhoods, and enlisting the help of a trusted real estate agent, you can navigate the townhouse buying process with confidence. With the support of the right professionals and armed with the knowledge from this comprehensive guide, you'll be well on your way to finding your dream townhouse in the vibrant city of Calgary.